Hello, I would like to share my thoughts with you from a bicycle relay around the world Bike Jamboree (http://www.bikejamboree.pl/), in which I participated in May this year. The relay started in Gdańsk already some time ago – at the end of 2017. In numbers it could be summarized as follows: 2,5 years, nearly 45,000 kilometers (approx. 1,000 kilometers monthly), 37 relay stages and tens of countries and Russian republics on four continents. The expedition has been organized by Polish Scouts and the association by the name Stowarzyszenie Afryka Nowaka. Interestingly enough, Kazimierz Nowak was associated with Poznań. In the early 30s of the 20th century he bicycled throughout Africa, covering almost 40,000 km in five years.
This year in Poznań took place a tourist fair which my wonderful girlfriend Zuzanna visited. She learned about the Bike Jamboree project from one of the speeches of a participant of the expedition stage which involved travelling through Mongolia and Russia. After giving it a short thought, we decided to send our application. To our surprise, there were still free spots. We chose a stage which was shorter than other ones, due to the limited possibilities of taking such a long vacation leave, and little time being left to the departure.
It is a non-profit initiative which means that we did not pay for taking part in the relay. We had bicycles, panniers and a tent at our disposal. All the equipment is extremely precious because it is handed over to consecutive teams on a stage-by-stage basis. Our responsibility was to take bike helmets, proper bicycle clothing and garments for rest and regeneration, and appear at the starting point at an appointed time.
For myself and Zuzanna it was the first expedition of such magnitude. We did not quite know what to bring with us, so we selected the most important items. And, as we know it, the heavier the bicycle, the harder it is to rack up consecutive kilometers.
Our team included: Jarek (the relay stage leader), Łukasz, Andrzej, Krzysztof, Kasia and Zuza.
Before leaving we had a few chats with the participants of our phase 27 A with by means of Instant Messaging programs. Already then I knew that we would have a close-knit team. Thanks to a wonderful work done by our leader Jarek, we were well-prepared to the tour. Jarek prepared the route, i.e. a daily distance to be covered, he found camping sites, canteens and the cleaner's. He helped us pack, picked us up from the airport in Chicago and brought us to the starting point. He graced us with continuous support throughout the journey.
Before the tour, we searched for sponsors in Poland and the USA who would support our relay. It was everything but an easy task but thanks to our team's huge involvement, especially Krzysztof's engagement, we managed to cover some of the expenses such as the transport from Chicago to Billings, accommodation, bicycle spare parts, various fees and meals. One of the sponsors was Macrix. I talked to Marcin and Marek about my tour. It turned out that they were very interested in the project in which I was taking part. Trips overseas are no surprise to anyone in the company. A number of people had trips to China, Russia, South Korea, RPA, India, Saudi Arabia as well as the USA. Regardless of that, the 27A relay stage received the support 🙂
As a thank you for the given support, we took a few photos which you can see below!
Moving on to the account of the journey, the sole relay stage took two weeks. We started off in Billings, Montana on May 12th and reached Fargo in North Dakota on May 25th. We covered the road from Chicago to Billings (the starting point of our stage) by car, thus visiting Mount Rushmore with the famous heads of the four presidents.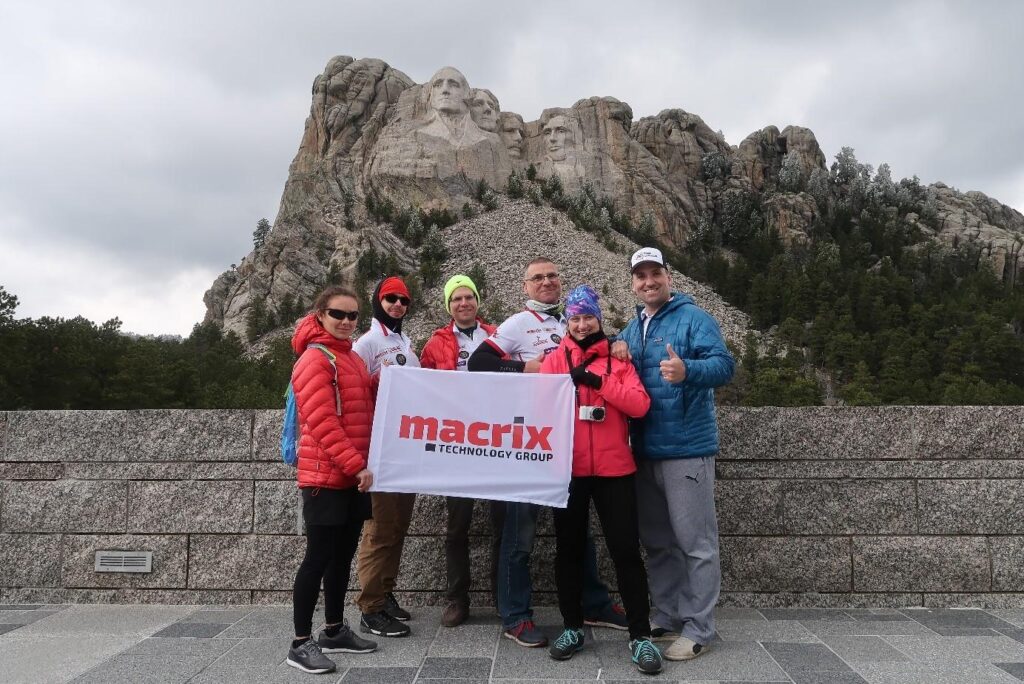 There is a not well-known monument not far from there – the Crazy Horse. Interestingly, the creator and executor of the monument is Korczak Ziółkowski. The monument works began in 1948 and they are in progress until the present day. As soon as the monument is finished, it will be the biggest one in the world. The construction works are taking place without any governmental support, but instead are being done solely thanks to the work of volunteers and sponsors.
When we left Billings the weather pampered us – we could feel the sun, warmth and wind on our back which helped us while pedaling.
When we left Billings the weather pampered us – we could feel the sun, warmth and wind on our back which helped us while pedaling.
Unfortunately, as soon as we reached Medora, the weather started to break. However, we had plenty of attractions to indulge in! We found accommodation in Theodore Roosevelt National Park. Bisons were literally passing us by 🙂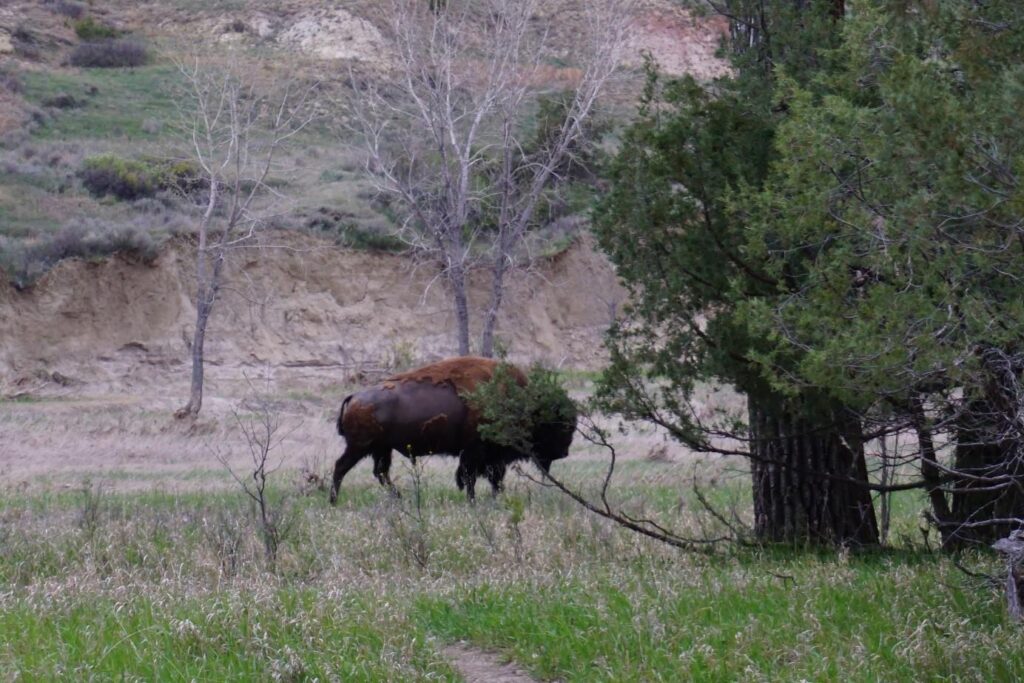 During one day of break, which we all desperately needed, the weather deteriorated drastically. The downpour was so intense that we barely managed to reach the city of Medora. There, by the coffee, soaking wet, out-of-the-blue we got an offer for accommodation in a warm and big shop – a café shop in Medora, that is The Farmhouse Cafe. Thanks to the graciousness of Jodi and her husband, we could stay for the night, dry ourselves up and get ready for the challenging day ahead of us. The next day was also nothing short of a challenge – as soon as we hit the open space, it started to snow and, additionally, the wind was slanting down from the left. This was the hardest day of the tour. We were not ready for truly winterlike conditions – we only took a few warm things and (theoretically) waterproof coats and trousers. My hands get cold quickly, so I needed warm gloves. I bought at a gas station a cowboy-style type, leather and warm and insulated gloves. They really hit the bull's eye 🙂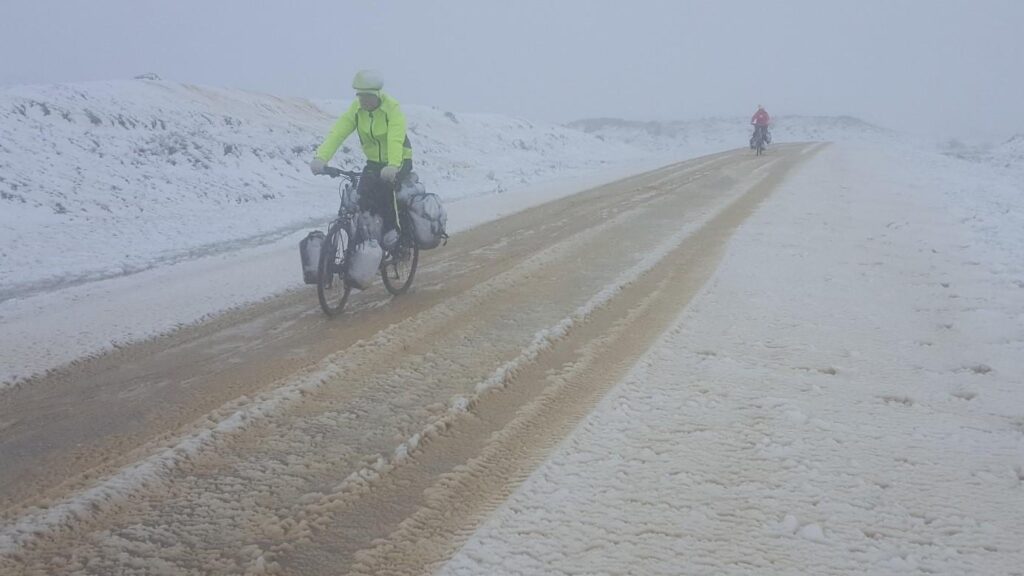 On our way we greeted Bismarck, the capital city of North Dakota:
Before Fargo we had to ride along the highway – other roads were either closed or soaked wet and covered in mud. For some time, we had a repaired lane at our disposal – only us and the highway 🙂
In Fargo we caught a colorful bison 🙂
From Fargo, Zuzanna and I, took a tourist, transcontinental train to Chicago. The famous Empire Builder connection between Seattle and Chicago is operated by Amtrak.
The rest of the group, that is Jarek, Kasia, Łukasz and Krzysiek, went to see Yellowstone National Park and its neighborhood.
Americans are amazing. They took great interest in our bicycle relay. They helped us in finding a place to stay and even offered us accommodation. Becki and Lamar from the town of Plevna made their camper available to us. They are extremely nice and open people. Becki is a music teacher at a local school and Lamar is a veteran of a USS Enterprise aircraft carrier.
Josh and Heather from Belfield offered their help during a snowstorm. They gave me and Zuza a ride to the hotel in Dickinson.
The person responsible for contacts with locals was Łukasz who promoted our bicycle relay stage, collected information and found us accommodation.
We slept mainly in tents, just as we did on the first day of our journey:
But luckily, as soon as the weather worsened, we always had an emergency hotel option and, above all, the earlier-mentioned camper and coffee shop.
If you are willing to learn about the ins and outs of our tour, then the day-by-day account is available on a Facebook group under this link: https://www.facebook.com/groups/etap27A/
Please visit and enjoy!