February will see the Macrix Academy Awards Gala 2022, an event to celebrate the employees with the most outstanding achievements over the last year.
During the glamorous ceremony, the winners of awards in two categories will be announced. The title of Most Valuable Player 2022 will be awarded to the person who has shown the best performance in five categories: work results, readiness for duty, innovative ideas, community involvement, and willingness to support others.
The second award category is Best Team Meetup 2022. This award will be presented for the first time in the history of Macrix to the team whose meetup was rated highest in the categories of: skills, teamwork, information, and business value.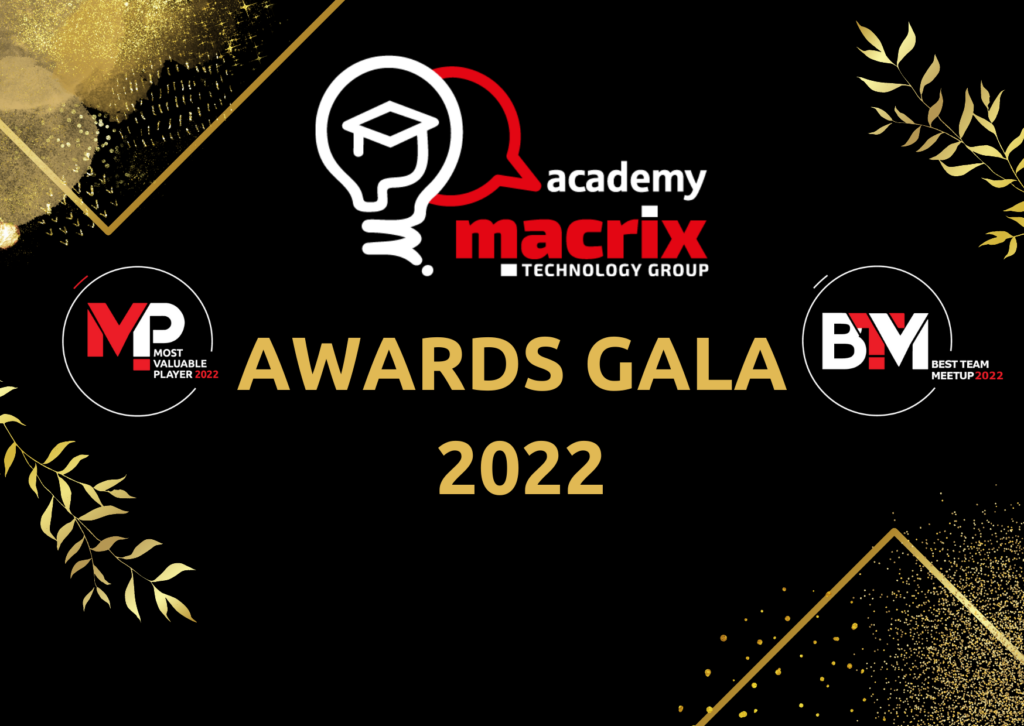 What is Macrix Academy?
Macrix Academy was created as part of the company's Development Department's activities aimed at developing both the soft and hard skills of employees. Macrix Academy combines several initiatives designed to drive the development of both employees and the company as a whole. Among them are such initiatives as:
Macrix Academy Awards – MVP and BTM
Young Potentials Program – an initiative to support the development of young talents at Macrix.
Technology Workshops and Tech Talks – events that allow employees to share their knowledge about technologies, projects and digital trends with the entire Macrix community to facilitate the development of technical competencies.
Leadership and Communication Courses – regular training sessions where we improve our soft skills.
Culture and Integrations Events 

– the opportunity for Macrix Teams to spend time together after work engaging in fun activities.
There are many more initiatives planned for Macrix Academy for the future.
The Awards Gala and the Nominees

Coming back to the Gala itself…the question arises – how will the winners be selected?
In January 2023, each Macrix team was asked to name three nominees for the MVP award and one team for the BTM award and to give a short explanation for their choices. Next, the Macrix Academy Jury reviewed all the nominations to make the final decision, which will be announced during our Macrix Academy Awards 2022 Gala. The winners will receive crystal statuettes along with a cash prize.
Already at this point, we know the names of the nominees for the MVP 2022 award, and they are:
For the BTM award – there are four meetups that are considered:
Team Hotel & Co. consists of Marcin Dyba (Software Commissioning Engineer), Lech Klimczak (Software Developer), Mateusz Sarbinowski (Software Developer) with "The Hotline Manager" project.
Team Sierra consists of Justyna Trocińska (Scrum Master), Patrycja Bytner (Head of HR),  Dominika Kirschenstein (Communication & EB Specialist), Joanna Duha (Administration Specialist), Emilia Ambrożejczyk (Administration Specialist), Sylwia Wójcik (HR Specialist) with "The Agile in an HR project" meetup.
Team XRAY consists of Albaan Albakryn (Software Tester), Michał Zawacki (Junior Software Tester), Dariusz Rudziński (Project Manager) with " Happy Testers' Day" meetup.
Team Echo & Co. consists of Kamil Wilkosz (Senior Developer), Lech Klimczak (Software Developer), Marcin Dyba (Software Commissioning Engineer) with "Factory I/O" project.
The winners of each category will be announced this Thursday, 23 February, at 6 p.m. at the Glamour restaurant in Przeźmierowo, near Poznań.
Interview with the MVP 2021
We decided to ask the previous year's winner Marcin Dyba, Software Commissioning Engineer and Team Leader, a few questions about his experience as the first ever Macrix MVP.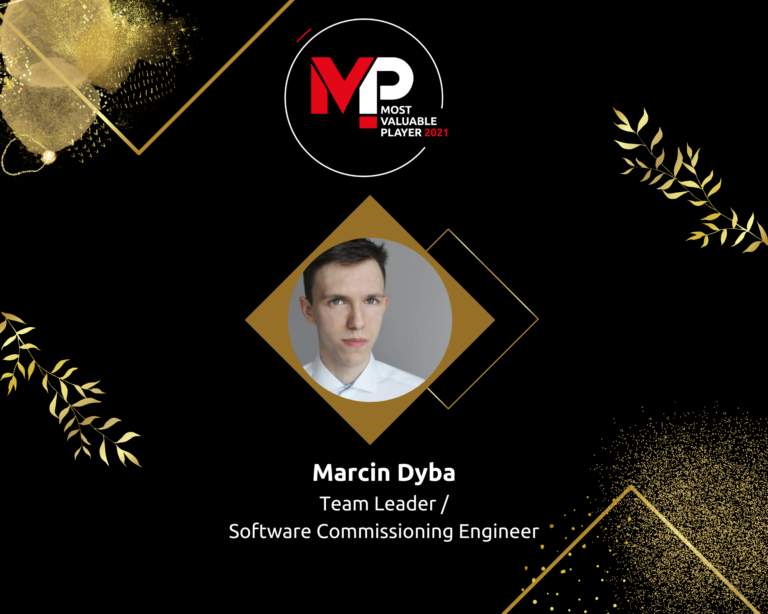 Marcin, as the first-ever Macrix MVP winner, how did you feel when your name was read out at the gala?
First of all, I was very happy and truly surprised by the nomination itself, and with such excellent competition, it has never even crossed my mind that I would be chosen MPV.
When the official part started, I was looking at the nominated Colleagues to see their reaction to winning and unexpectedly my name was read out. It took me a while to realize that I was selected. I still don't remember exactly the moment when I got the microphone and was asked to give a short speech. After a strong surprise, came happiness.
Do you think it is difficult to achieve this title and be good in all the five areas that were considered? Which area was the most difficult for you?
I must admit that it may be a little challenging to meet all requirements. Each of these points requires maximum commitment from us and a comprehensive approach to the tasks. It is worth not just following the standard path but being open to all possibilities and of course challenges. In my case, due to the project being executed in a different time zone, the hardest part was staying ready for duty. It often happened that we had to deliver night support or weekend supervision during production. I also spent many months on the construction site to support our customer. For sure, this point was the hardest for me to achieve, but I had a chance to cooperate with a great team and we overcame all the difficulties.
What would you say to anyone who would like to become an MVP?
I think the most important thing is to simply like your job. Then it is much easier to face problems and enjoy even small successes after a hard day. In addition, taking care of efficient communication is one of the most important elements of our work, especially when you cooperate with customers or co-workers from all over the world. Thanks to a good working atmosphere and an openness to new challenges, we will be able to execute the most demanding projects.
Is there anything you would like to add from yourself that is worth mentioning?
I want to encourage all my colleagues to take up the challenge and aim for becoming MVP in 2023. I think this award is not only an appreciation one's previous work but also a great motivation for further development and growth together with Macrix. I keep my fingers crossed!
Marcin, thank you for taking the time to answer questions. Wishing you, but also all our colleagues, continued success and growth at Macrix and we keep fingers crossed for future MVP and BTM winners.
Dominika Kirschenstein
Communication & Employer Branding Specialist