It all began in September 2000 with a handshake between Marek Zuchowski and Kristof Halastra… and on the 25th of September 2020 we celebrated the 20th anniversary of Macrix!

We are a software factory and we feel like a duck in the water while programming, but… we decided to try something completely new, something a little bit crazy
. And because all people love good food and good drinks, a cooking course as the main topic of the anniversary party seemed to be very interesting, and exactly that's what it was like!
During the event, we were divided into smaller groups and each of them had different dishes to prepare. Just like in a software project – you have a team; you have tasks and you have a deadline. It looked quite familiar for us! We only needed to organize ourselves and deliver the solution! 😉 And we did! Moreover, after the official commissioning, which was a four-course dinner, we received a Final Acceptance Certificate, additionally awarded with thunderous applause.
What was immensely helpful – two professional chefs were there to share their knowledge, teach us useful techniques and to help whenever we needed them. It was a very valuable experience.
We spent a nice evening together, cooking as a team and proving that we can handle a four-course menu, not being afraid of anything! Including knifes 😊.
And how were the 20th anniversary celebrations remembered by the participants?
It was a very nice, successful and interesting evening.
We met with the whole Macrix DE team and also invited guests to celebrate together the anniversary of our company. This time we celebrated very actively, preparing a gala dinner, under the watchful eye of the cooking experts.
The result of our efforts, commitment and hidden talents of all participants was a tasty dinner, to which we sat at the end of our evening. And during the supper there was also an opportunity to reminisce a bit about old times…
Kristof Halastra
Let's start with the conclusion. It was a perfect cooking event where you collect impressions of your colleagues which you won't get in normal work life. To be honest, not all programmers or project managers are able to survive without ordering fast food. But in fact, we got a great dinner with the help of everyone. It was a fantastic event that strengthened cohesion. Special thanks belong to Rosa who was organizing the event in a great way.

Dominik Terhorst
For me, as a new member of the Macrix family, it was of course very interesting to get to know the team in a different context. On the one hand, I was surprised how good and delicious the result was in the end. On the other hand, my impression was confirmed that the team works together perfectly – even outside the daily business.
Tobias Eickmanns
The 20-year anniversary cooking event was a lot of fun! There was competition, there was teasing, there was laughter. And in the end, there was a fantastic 4-course meal. "Too many cooks spoil the broth"? Not with this team!
Jens Wolff
The event was a great experience for me and I really enjoyed it. The relaxed atmosphere and the cooperation during cooking has integrated the new colleagues excellently and intensified my relationships with my long-term colleagues. In addition, we were able to prepare a delicious meal on the side, which nobody had expected in advance.

Stephan Frank
As a passionate hobby cook, I know how to work with a knife! So, it was amazing to hear about such an event. Cooking is the best way of getting to know people around you from a new point of view. Everything was almost perfect at the beginning and turned out to be impressive at the end. The almost romantic ambience, helpful and kind strangers, the beautiful, relaxing mood of the colleagues and the extraordinary, delicious food just made it a day to remember.
Beyond that, it was very interesting to find out some very basic cooking mistakes in everyday life
. Thanks to all managing staff and a happy 20th anniversary to the Macrix family.

Masoud Adibi-Sadeh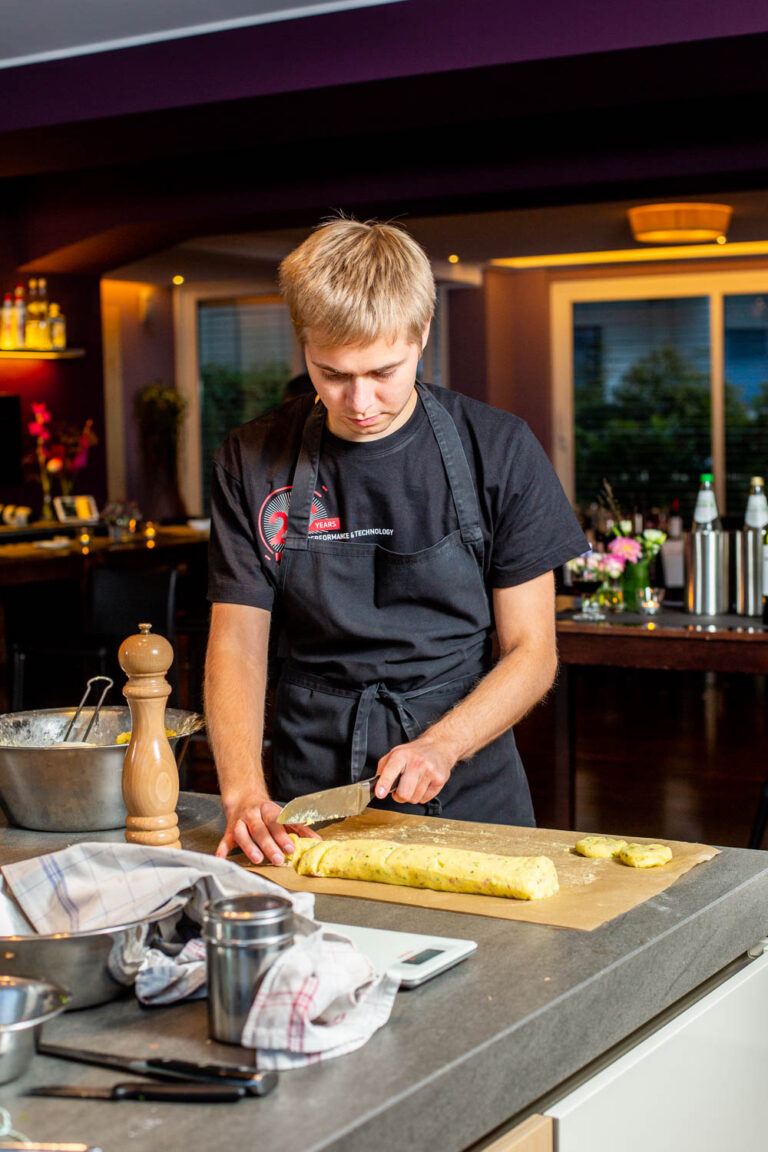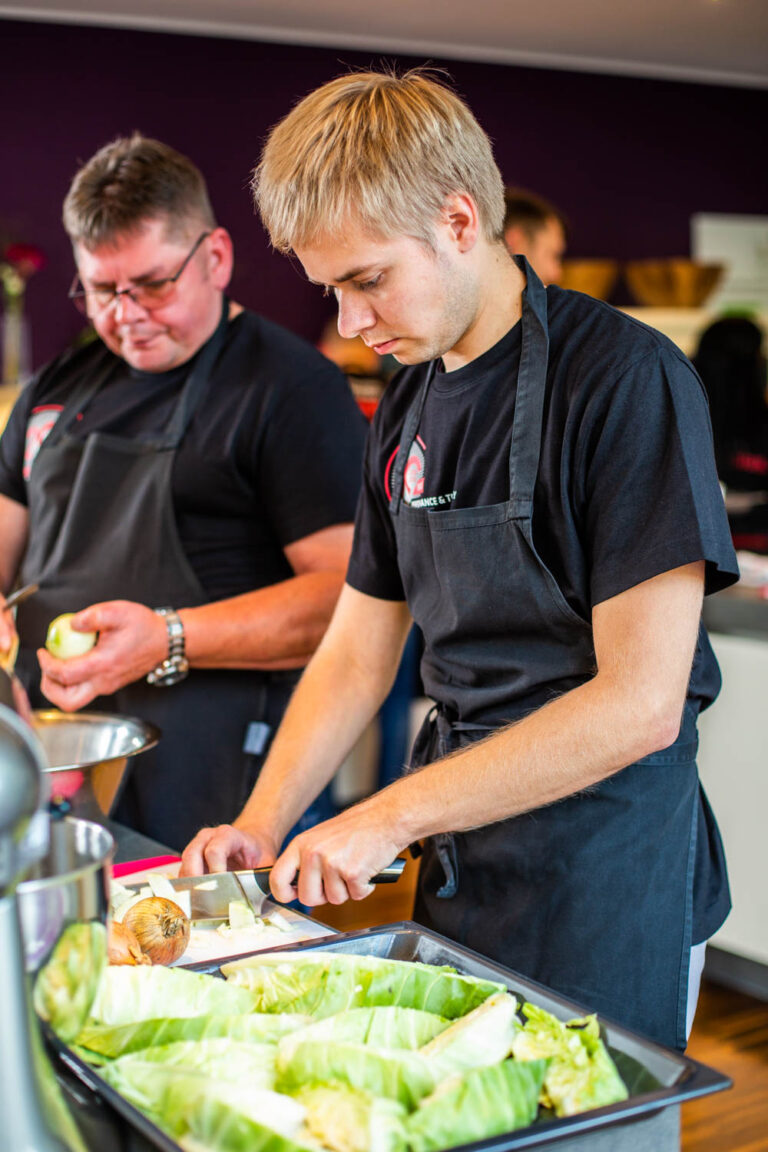 The anniversary party was pretty impressive, and it was quite a lot of fun to first prepare the whole meal on our own, supervised by a professional chef, and get rewarded with a very delicious dinner. I think the tips and tricks we got from the chefs will be quite helpful also in the future, and it helps to be more motivated for your private cooking routine instead of calling the next pizza-service. It was a really special party to me and I was surprised how smoothly everything worked.
Sebastian Scholl
Hi,
my name is Rosa and I am the new one. I just came to this amazing Team one month ago. I am the new Assistant of our CEO Marek Zuchowski. And I can say I never felt like the new one. All colleagues and especially Eva let me feel that I am already part of this Team.
Our top management are four men: Marek Zuchowski, Kristof Halastra, Jozef Eckert and Marcin Krzywulski – they are all hard workers, but also close to the Team, always addressable and always smiling. Eva was Marek's Executive Assistant from the very beginning, she knows everything about our company and she supported me from day one to learn everything!
Eva and I also have the same interests, we both love to travel. Soon she will go into retirement and will have so much time to discover the world. Then we have Dominik, he is a workaholic, he is soooo busy, but if I ask for help, he is always there for me. As you can see one the pictures, he is the master of food. He keeps our boys in line and is the good soul of our Team.
This is a small insight into our Team in Germany, but of course every single member, one by one is special. As a Team, we are a happy and inspired. I feel really happy to be a part of this Team, because there are many things to do, we have visions and dreams and a big future in front of us.
Rosa Chrisi dos Santos Silva