How to be a good leader? What are the challenges of managing developer teams? And which values are especially important for aspiring leaders? To answer these and other questions, we talked with Kamil Wilkosz, who is a Senior Software Developer at Macrix and team leader of team ECHO, one of our eight development teams. 
By introducing the team model to our Development Department, we combined the best aspects of both flat and hierarchical company structures in a unique model. Read the interview with Kamil to learn more about how teams at Macrix work and to get to know his insights from being a team leader.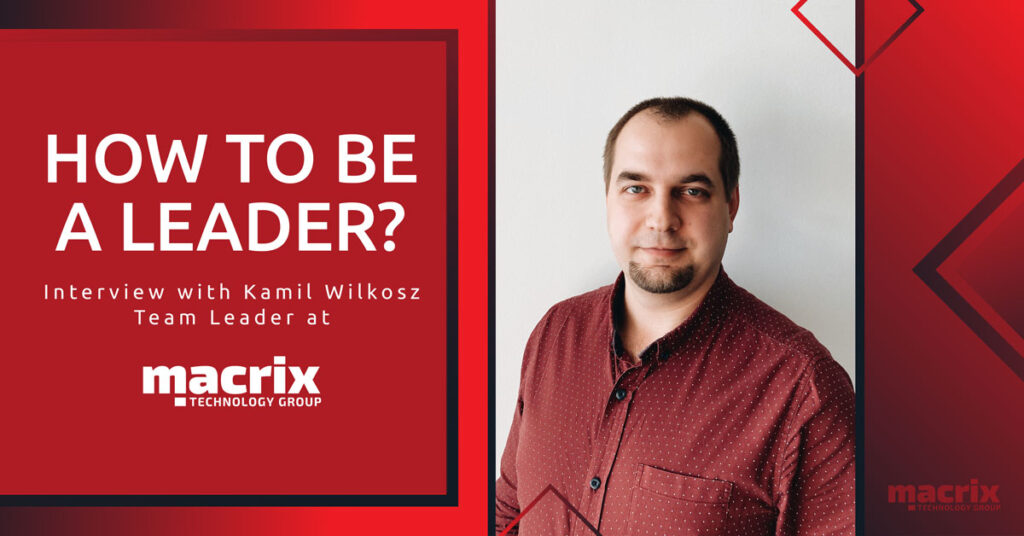 Kamil started his adventure with Macrix in March 2020 as a Software Developer. In 2021, he became a team leader after successfully completing the selection process for this role. At the beginning of this year, Kamil was promoted to Senior Software Developer. From the very beginning of his time at Macrix, Kamil has been actively involved in the life of the company and in building positive relations between employees. 
Kamil, how did you become team leader of one of the Macrix teams?

It started when the Macrix Board decided to change the organizational structure of our company. The Development Department was constantly growing and became too big for the flat structure that we had at that time. The internal recruitment process started, and I was convinced to take part in it. The final decision was positive, and I was chosen along with five other colleagues to become the first team leaders in the company. We now already have eight teams and everything indicates that they will grow rapidly.

What prerequisites did you have to meet to become a team leader at Macrix?

It's hard to say. I didn't have any experience in management, but it was helpful for me that I was a trainer in my previous company, so I already knew something about working with people and guiding them. I think that some of the values that the recruitment team was looking for were empathy, enthusiasm, and openness.

Do you enjoy being a team leader? What are your responsibilities?
Definitely, I do! I derive a lot of satisfaction from working with people, by supporting colleagues at their daily work. In general, I have one major duty – to take care of my teammates' satisfaction. This was one the main reasons for establishing functional teams and all my actions are directed at maintaining a high level of satisfaction. This includes forwarding two-way feedback during evaluation meetings, interacting in situations when colleagues need support, trying to recognize potential issues, keeping an eye on their moods, and organizing team building evenings. All my actions focus on the wellbeing of the team.

How much time do you spend on team leader duties? Do you have to define time frames?

Usually, this takes about 10% of my time per week. However, it can also be more, depending on if there are any onboardings, evaluation meetings or similar situations that requires my involvement.

Did you always know that you want to be a leader?

I always was finding myself in leading roles at school, so I guess somehow, I have this need. However, when joining Macrix, I didn't assume that I will take on leadership responsibilities. As I said at the beginning, someone had to convince me to take part in the recruitment process because even then I didn't plan that. Now I am happy that I took the opportunity.
Was there any situation that was exceptionally satisfying to you?
A few times I was able to help colleagues in the team to solve issues and made them comfortable again at Macrix. In those situations, I felt that I made a difference, which was very satisfying to me. In general, the team leaders have already recognized and fixed a number of issues that would have gone unnoticed in the previous flat structure that we had at our company. It makes me proud of the team leaders group.
For you personally, what are the perks associated with the team leader function?
I appreciate working closely with people. I learn how to work with different types of characters or how to fight for my and my team's interest. The role also helps me to strengthen my assertiveness. Also, being a leader forces me to balance between project and team duties. I have the opportunity to work on some skills that I never would have a chance to improve being just a developer.
What's your "recipe" for being a good leader?
I have the principle that I am a team leader first and then I am a developer. I hope that my teammates remember that they can come to me at any time, and that they are my priority.
What challenges do you face managing your team? How do you handle them?
The last two and half years forced us to move our daily work at least partly to home and to communicate via chats or video calls. It is harder to build relationships, especially from the team leader's perspective who should be close to his team, gauge people's moods and help whenever they need assistance. To overcome this, I try to convince colleagues working remotely to come to the office from time to time, organize integration evenings or catch colleagues at work for chatting.
What do you think is the most essential aspect of good team management?
There are two fundamentals that I prioritize: honesty and trust. Honesty is a value that a team leader should spread in the team from the very beginning. After some time, honesty will earn trust. Having these two is essential to build a strong team.
What else is important that someone who aspires to become a leader should now?
Our life never is black and white. It's important to consider all options and learn all perspectives and points of view. Acting on emotions will only cause problems. There is one sentence said once by one of the team leaders: if you make a mistake in the code then it's easy to fix. If you make a mistake working with people, then it's hard to build trust again. I think any potential leader should take this thought to heart.